This is just a small shrine to the wonderful improv genius known as Ryan Stiles. He is one of the stars of "Whose Line is it Anyway?", he plays Lewis Kiniski on "The Drew Carey Show", and you might have seen him on many commercials playing "Kenny", the enthusiastic "Kinko's" co-worker.
I became a fan during my junior year of high school. I had always watched "The Drew Carey Show", but I never realized that he was on "WLiiA?"(Whose Line is it Anyway?). After watching the British and the American versions, I fell in love with the show and him. He's my favorite because he's got the quickest wit.

Be sure to sign my guest book or send me an e-mail when you're done checking out the site!





This Just In: I'm still trying to write some fanfic. I've been so busy lately with the music that I think I'm starting to go crazy. I'll try to put up more pics and links as soon as I can!!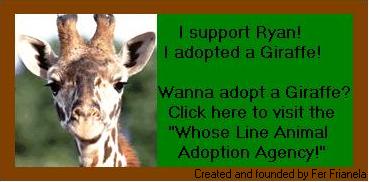 Support freedom
http://pv1fd.pav1.hotmail.msn.com/cgi-bin/saferd/award1.gif?_lang=EN&hm___tg=http%3a%2f%2f64%2e4%2e30%2e250%2fcgi%2dbin%2fgetmsg%2faward1%2egif&hm___qs=curmbox%3dF000000001%26a%3d06925601c772671052b60bc25f6cf14f%26msg%3dMSG1008957261%2e21%26start%3d2600351%26len%3d214816%26mimepart%3d3%26disk%3d64%2e4%2e30%2e73_d615%26login%3dviolajunkie782%26domain%3dhotmail%2ecom&hm___cacheh=1&file=award1.gif&domain=hotmail.com