My First Thought:
I'm getting more and more excited about Contemporary Ensemble everyday. I can't wait unti we star working with Evan Ziporyn from Bang On A Can. We're also working with Todd Reynolds, the violinist from Ethel. Two talented individuals. Each day I think and think that maybe I should set out to be a contemporary musician. Dr. Ryan really has opened my eyes to it...
My Second Thought:
I keep having weird dreams about Dr. Ryan. Ever since last Wednesday wyen he smiled at me in Contemporary Ensemble. It was a really nice smile, something I rarely get from him, but it also freaked me out. It freaks me out even more that I've fallen hard for this guy...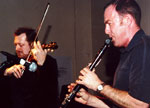 Todd Reynolds, violin, and Evan Ziporyn, clarinet

We hope to update this page often with new photos.